At the end of last week, I finally pushed the button and put How2 LIVE!!!
As usual, it's a very large issue, with several substantial features, as outlined in the full flyer below.
There are a couple of other noteworthy extras with this issue:
Blog: With the launch of this issue comes the launch of the new How2 Blog. This contains 4 sections: Blog, Calls, Postcard, Updates. Postcards are, as usual, open to the readers of How2, who are encouraged to participate in dialogue and disucssion of work and issues pertaining to the content of the journal, between issues on an ongoing basis. The blog will be updated by various selected writers associated with the journal. Calls and updates will be updated with news and calls as and when they arise. You are encouraged to subscribe to the blog and follow the discussions!
Twitter: How2 is now on Twitter, @how2journal. This is a great way to receive alerts to updates, and get quick, to the point information from the journal. Please follow, and every Friday, big up the journal, #ff lovers.
And, to quickly self-promote, I have a short essay in this issue by way of introduction to the works found in the new media section, which I curated for the issue.
The header image is taken from a screenshot of Aya Karpińska's nobody knows but you, featured in and downloadable from this issue.
---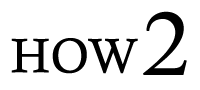 Volume 3, Issue 3
Launching a new issue of How2 journal…
Featuring:
Strictly Speaking on Caroline Bergvall
Featuring papers from:
Caroline Bergvall
Sophie Robinson
Nathan Brown
cris cheek
Laura Goldstein
Majene Mafe
---
Reading Carla Harryman
Featuring papers from:
Carla Harryman
Laura Hinton
Christine Hume
J. Darling
Carla Billitteri
Renee Gladman
Austin Publicover
---
Poetic Economies of Performance: Part 2
Featuring poems & papers from:
Elizabeth-Jane Burnett
Emily Carr
Christina Continelli
David Emanuel
Jennifer Karmin
Shannon Maguire
Julia Lee Barclay
Amy Sara Carroll
Laylage Courie
Bonnie Emerick
Jena Osman
---
new media
Featuring:
Aya Karpińska
Katie Clapham
Becky Cremin
Simone Gilson
---
New Writing
Featuring poems by:
Jessica Wilkinson
Emily Critchley
Karen Sandhu
---
Review
Featuring:
Jessica Wilkinson on Susan Howe's Souls of the Labadie Tract
Emily Critchley: on Lisa Robertson's Magenta Soul Whip
---
In Conference
Featuring:
Arpine Konyalian Grenier:
Reflections on the First International Poetic Ecologies Conference, Université Libre de Bruxelles, May 2008
---
HIGHLIGHTS FROM THE HOW(ever) ARCHIVES Featuring selected work by:
Susan Gevirtz
Hannah Weiner
Rosmarie Waldrop
Lydia Davis
---
Contribute a Postcard, view Calls for Submissions, view Updates and the read the new blog at the new How2 Blog.
How2 is now on Twitter. Follow us: @how2journal.
Search How2
Visit our Links section
Visit our Archives
Editor: Redell Olsen (London)
Managing Editor: Kai Fierle Hedrick (New York)
Designer / Programmer: John Sparrow (London)
Publisher: Kathleen Fraser